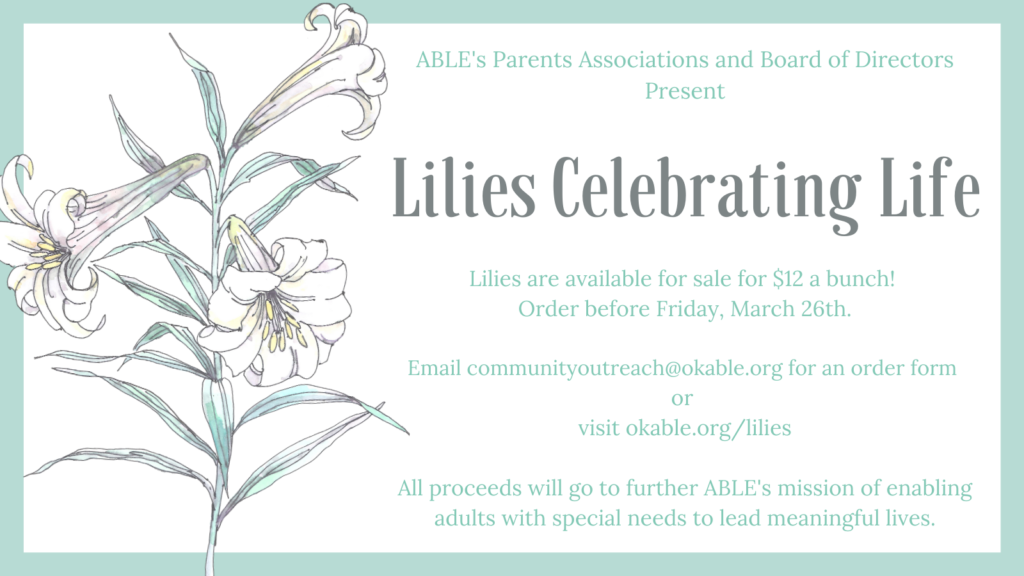 Easter is rapidly approaching.
For 17 consecutive years, ABLE Lilies Celebrating Life are being offered as our way to honor the Easter season. These beautiful five trumpet plants will be delivered within 5 days of Easter Sunday (April 4th) and should be in full bloom Easter morning.
For nearly four decades ABLE has been providing residential care, vocational training, and employment support for adults with developmental disabilities. Every dollar of the Lilies Celebrating Life proceeds are used in direct service to our recipients.
Once again ABLE is offering the lilies to our friends and supporters. On the reverse side of this letter is an order form. You need only to decide how many Lilies Celebrating Life you would enjoy to grace your home during the Easter season. Should you decide to order ten or more, we will provide you an invoice upon delivery.
If you have any questions, comments, or concerns please contact Lauren at communityoutreach@okable.org or 405-318-8978.
On behalf of ABLE, we wish you a beautiful Easter season.
Thank you for your support!
---